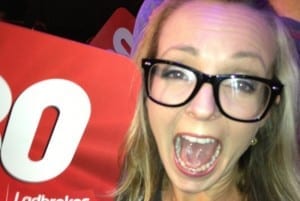 Sarah Holmes will be recognised by many as one of the trio of style entrepreneurs that owns Skintrade, Newport – one of the Islands few truly successful, independent fashion shops. Brothers Simon and Dee Holmes first opened the doors of Skintrade in 1993 as a vintage clothing store. Over the intervening years it has evolved to become one of the leaders of the Island fashion pack influencing what trends and brands Islanders are wearing today.
Before her days in retail, Sarah successfully completed a law degree but decided not to pursue law as a career path, instead joining her husband Dee in the family business a few years after it opened. Having grown up in Ventnor Sarah is passionate about the Island way of life, the great outdoors, miles of beaches and laid back vibe; something which you can clearly see reflected in the range of clothes filling the rails of Skintrade.
Style is…:  To me, style is being brave enough to know who you are and owning it. It's so much more than the clothes you put on your back, it's about you as a whole person; what you believe in and how you carry yourself.
Money equals success?  I wish it was the other way around: success = money! Being passionate and fully committed to what you do is the key to success, where the money bit comes in…well I'm still trying to work that bit out!
What does Island living mean to you?  Island living to me is all about the summer. The fresh air, the countryside, the beaches, the festivals, the chilled-out vibe – I LOVE IT!!! I'm a keen runner and every time I'm jogging down our winding country lanes I see something amazing, whether it's the view, a little squirrel or some birds in the trees. It's the little things like that which I really appreciate. I also love that "ahhhhhhh" feeling you get when you board the ferry home after a trip away… I hope that never goes away.
Icons or inspirations?  Madonna, Karren Brady and Paula Radcliffe. That might sound like a random bunch, but actually they are the first three names which popped in my head. I really respect strong, positive, female role models. Women with focus and drive, girls with something to say that are not afraid to say it.
Also my parents were a huge inspiration for instilling me with a good work ethic; and my husband for always being my wingman (or I his!!).
Typical customer?  I can honestly say that we don't really have one! That is one of the joys of working with the public – you never know who's going to walk through the door. We do however, have a wonderful bunch of loyal punters, 'Regs' as we call them. You really get to know some of them over the years. You see them go off to uni, come back, get married, have kids, it can be a real journey sometimes. I guess they do have something in common, that they don't want to follow the pack on the high street and want to be a little bit different. For that we love each and every one of them!
Blunders? And what have you learned?  I suppose the main thing I've learned is that you can't please all of the people all of the time. I am a people-pleaser in all aspects of my life and it can be pretty draining at times. As I get older I'm trying to learn that it's OK to say no sometimes….. (But I'm still not very good at it yet!)
Top Tips…:  My top tips would be quite simple really: live, love, laugh and never take yourself too seriously. I also think it's really important to smile… pass it on!
Facing the future….:  It's been a really tough few years in retail, so I really hope that the worst is behind us, (I don't want any more grey hair let's put it that way!!) I hope that Islanders will continue to support all the local small businesses, not just Skintrade. We need to support our town centres and keep the Island economy afloat… one T-shirt at a time!!!