The Island's coastal waters have inspired many of Britain's greatest painters in both oils and watercolours over the last two centuries.
Works depicting shipping and other craft have been set against the backdrop of the Island's spectacular coastal scenery stretching from Cowes Roads to Spithead in the Solent and the English Channel off the south coast. Some of the greatest examples include: J. M. W Turner's 'Fishermen at Sea' painted off the Needles in 1796; and John Wilson Carmichael's numerous large oils of the Island coastline such as 'Shipping off Osborne' in 1862.
Sir Oswald Brierly, 'Marine Painter in Ordinary' painted a fine view of the Royal Yacht, Victoria and Albert, whilst anchored in Osborne Bay. Later the self-taught Ryde marine artist, Arthur Wellington Fowles painted regatta and yachting scenes in the Solent, sometimes on a large scale; whilst Portsmouth-based artist and drypoint etcher, William Lionel Wyllie was also prolific in the late nineteenth and early twentieth centuries.
The tradition of depicting such scenes continues today. Tony Westmore paints shipping and yachting scenes both out on location as well as in his studio overlooking the Solent at Cowes. Painting in acrylics and watercolours in a British Impressionist, and sometimes semi-abstract style, Tony has exhibited works for the last six years at the Royal Society of Marine Artists (RSMA), and also at the Royal Institute of Painters in Watercolours (RI).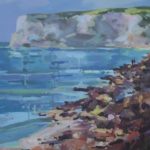 Tony can trace his Island ancestry back to the sixteenth century and spent his working life at J.S White's before moving to BHC and then BAE Systems. His marine and shipping subjects are to be found in collections across the world, hanging in shipping company offices, Royal Naval Wardrooms, Far East shipyards and in private collections. However, he is equally proficient in landscape subjects. This was demonstrated when he won first prize in the 29th  Landscape Paintings of the Isle of Wight Art Competition at Bonchurch in October 2013 for a rural scene depicting a shepherd's hut on the downs.
A further aspect of Tony's career is teaching art. He runs painting classes at Gurnard as well as being an art instructor for both P&O Cruises and Fred Olsen Cruises. To see more of Tony's work visit www.shippaintings.co.uk.