The expert butchers at Farmer Jacks share their show-stopping Christmas recipe.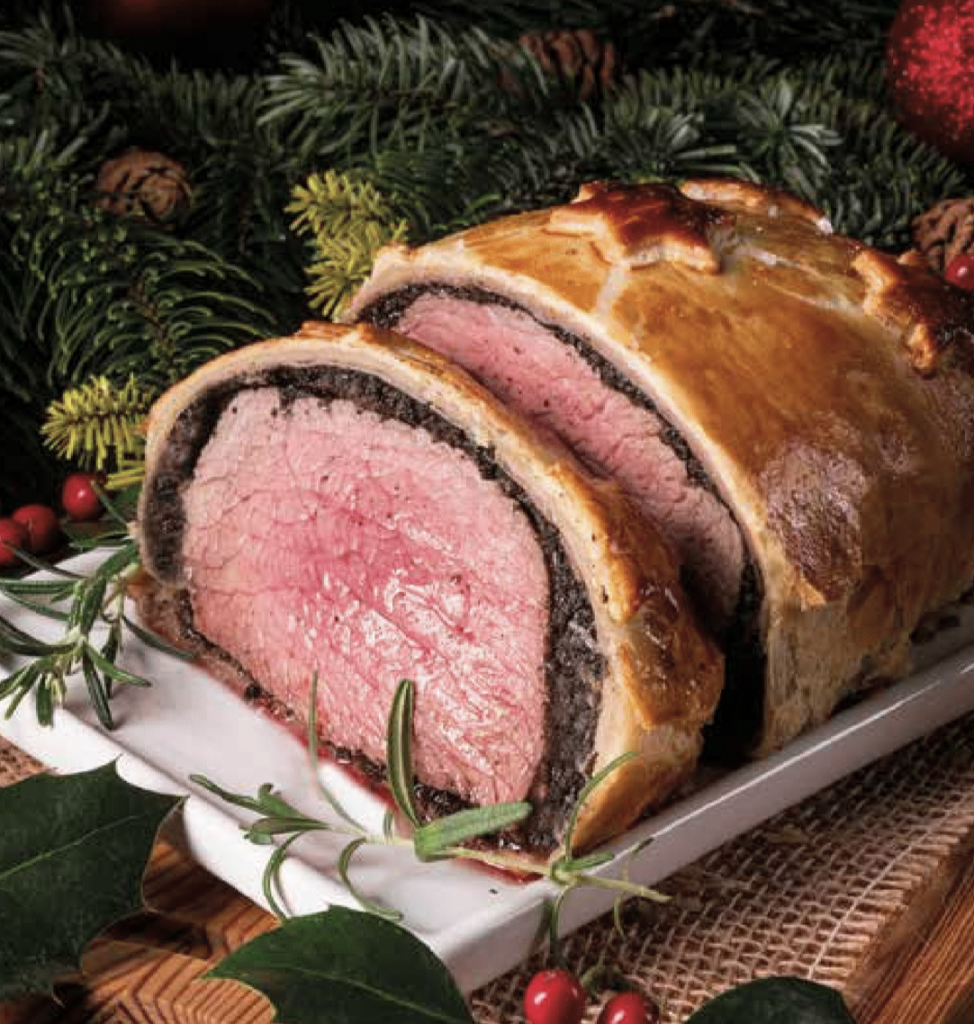 Ingredients
500 g beef tenderloin fillet (from £27.00 per kilo at Farmer Jacks)
Salt and pepper
Extra virgin olive oil
500 g mushrooms
4 thing slices Parma Ham
2 tbsp English mustard
250 g puff pastry
2 egg yolks, beaten
Method
Season the fillet generously with salt and pepper.
Heat a tablespoon or two of oil in a large pan on high heat. Cook quickly on all sides over a high-heat, or sear in a smoking hot stovetop skillet until well browned.
Remove the fillet from the pan and let cool.
Once cooled, brush the fillet on all sides with 2 tbsp of yellow mustard: even better, pick up a pot of award-winning Tracklements Strong English Mustard available from the Farmer Jacks Food Hall.
Chop the mushrooms and purée in a food processor, before sautéing on a medium high heat. Once the mushroom's moisture has boiled away, remove from the pan and set aside to cool.
Roll out a large piece of cling film. Layer thin slices of Parma Ham so that they overlap, and then spread the mushroom mixture over the ham. Place the beef fillet in the middle, rolling the mushroom and ham over into a tight barrel shape, twisting the ends to secure. Chill in the fridge for 20 minutes.
Preheat the oven to 200°C. On a lightly floured surface, roll out the puff pastry sheet to a size that will wrap around the beef fillet. Unwrap the chilled fillet and place in the middle of the pastry dough.
Brush the pastry edges with beaten egg yolks, fold carefully around the fillet, trimming any excess. Place on a small plate – seam side down – and brush the rest of the beaten egg yolks all over the top. Chill for a further 5-10 minutes.
Once chilled, place the pastry-wrapped fillet on a baking pan, brushing once more with beaten eggs before scoring the top of the pastry with a sharp knife – taking care not to go all the way through. Sprinkle the top with coarse salt.
Bake in the oven at 200°C for 25-35 minutes. When done, the pastry should be nicely golden – for medium rare, use an instant read meat thermometer and remove at 55%.
Let rest for 10 minutes before serving in 1 inch thick slices.
Farmer Jacks offer a wide range of seasonal goodies and build-your-own festive hampers; ribbon-wrapped and Christmas ready. From fresh turkeys, pigs in blankets and locally grown Brussels sprouts to traditional stuffing, cranberry sauce, mince pies and marzipan. In the delicatessen you'll also find Christmassy delectables from around the world – from Panettone and Baklava to European cheeses and continental festive beers.
To order your tenderloin fillet, visit www.farmerjacks.co.uk
Instagram @farmerjacksshop