Isle of Wight Meat Co. share their classic choice for a festive feast.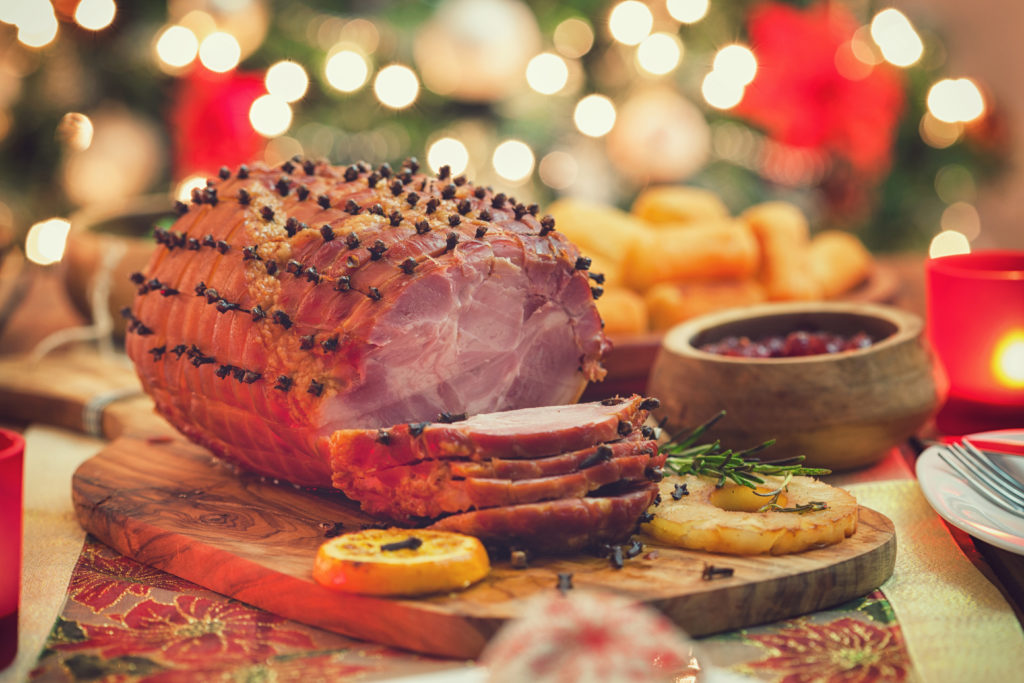 Ingredients
2 kg cured boneless gammon ham (£12.50 per kilo from Isle of Wight Meat Co.)
1 onion, quartered
2 carrots, chopped
1 celery stick, chopped
1 tbsp black peppercorns
1 tsp coriander seeds
1 tsp fennel seeds
Handful of cloves (to stud the fat)
For the Glaze
2 tbsp soft dark brown sugar
4 tbsp honey
2 tbsp mustard powder
20 ml sherry
Method
Soak the gammon, if needed, as per instructions according to type and length of cure
Place the gammon in a large pan and cover with cold water. Add the online, carrots, celery and spices and bring to the boil. Reduce to a simmer, cover with a lid and cook for 20 minutes per 500 g. Isle of Wight Meat Co. recommends using a probe – aim for an internal temperate of 68°C.
Preheat the oven to 200°C/180°C fan.
Remove the gammon from the pan (reserving the cooking liquid for stock, soups, or even some homemade mushy peas)
Allow to cool slightly, then remove the rind – leaving as much of the fat as possible. Score the fat in a diamond pattern and push a clove into each intersection of the score.
Mix the glaze ingredients into a paste.  
Place the gammon in a roasting try and brush half of the glaze over the top and sides.  Place in the oven for 25 minutes, removing after 15 minutes to brush with the remaining half of the glaze.
Remove the gammon from the oven, and set aside to cool.  
Tips/Variations
For a more Christmassy punch, add festive spices – such as Star Anise, Allspice, Mace or Cloves – to the pan.
If you prefer more of a kick from the glaze, simply increase the quantity of mustard powder.
For locally reared Gammon Joints and Christmas Roasting Joints – plus pigs in blankets, sausage meat and more – visit www.isleofwightmeat.co.uk.
Instagram @isleofwightmeat