Local full-flavoured yet melt-in-the-mouth venison from the Isle of Wight Deer Farm meets sweet and earthy Farmer Jacks' Farm Shop beetroot and in-season walnuts for the ultimate Fall Feast.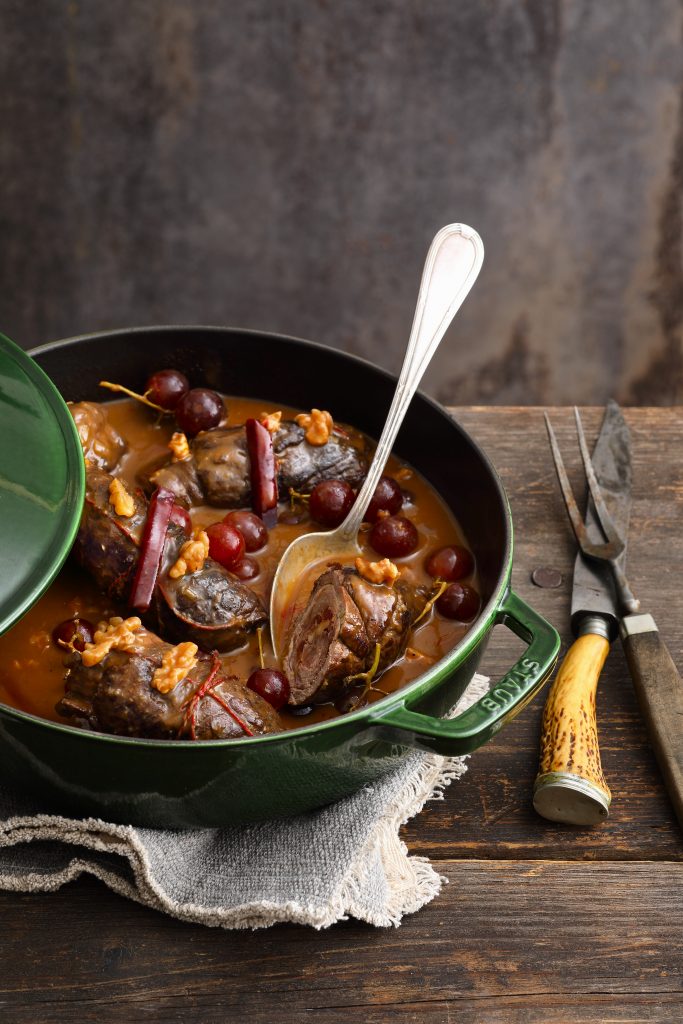 (serves 4)
Prep and cook time: 2 h 15 min
Total time: 2 h 15 min
Difficulty: medium
Can be frozen
Ingredients:
4 venison leg steaks, ~350 g each, trimmed
2 cloves garlic, minced
454 g | 3 cups seedless red grapes, divided, one-third chopped
225 g | 1 1/2 cups walnut halves or pieces, divided
3 tbsp olive oil, divided
2 tbsp unsalted butter
3 tbsp plain flour
1 l beef stock
500 ml red wine
4 small beetroot, peeled and diced
2 small cinnamon sticks, broken in half
2 bay leaves
2 rosemary sprigs
2 thyme sprigs
salt
freshly ground black pepper
Directions:
1 Preheat the oven to 150°C (130° fan) | 300F | gas 2.
2 Season the venison steaks with salt and pepper; divide the garlic, chopped grapes, and about half the walnuts between the steaks. Fold the ends inwards and then roll into tight parcels, securing them with kitchen string. Season the outsides with salt and pepper.
3 Preheat a large casserole dish over moderate heat until hot. When hot, add 2 tbsp oil and then the venison roulades, searing them until golden-brown, turning as needed, about 5 minutes. Remove to a plate.
4 Reduce the heat under the dish to medium; add the remaining 1 tbsp oil and the butter, letting it melt. Once melted, sprinkle over the flour and cook, stirring frequently, until light blonde in colour, 2-3 minutes.
5 Gradually whisk in the stock, followed by the wine. Bring the sauce to a boil and return the venison to the dish along with any accumulated juices, the remaining grapes and walnuts, beetroot, cinnamon, herbs, and some salt and pepper to taste.
6 Cover with a lid and transfer to the oven. Bake until the venison is very tender, about 1 1/2 hours.
7 When ready, remove from the oven and season to taste with salt and pepper, if needed. Let stand for 5-10 minutes before serving.