By Evelyn Joyce, Balance + Glo 
For me, the change from summer to autumn is synonymous with British hedgerows full of plump blackberries just waiting to be foraged. There is something quite satisfying about searching out the best of the crop and returning from a walk armed with Tupperware full to the brim with juicy blackberries, which are also a fantastic source of vitamin C and dietary fibre. These individual crumbles are a simple crowd pleaser; perfect for dinner parties or as a comforting pudding for one.
Serves 2, in two 14cm shallow pie dishes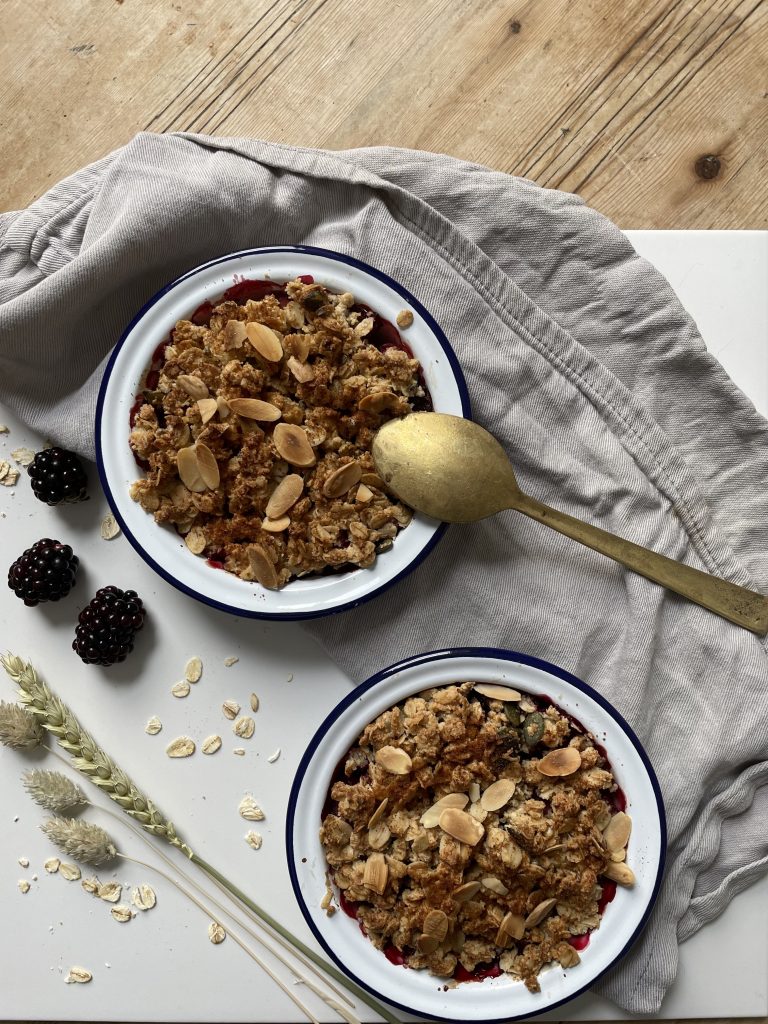 Ingredients:
Filling:
300g of apple (weight when peeled and diced into roughly 1cm cubes) – approximately 3 apples
1 tsp of coconut oil
12 blackberries (if these are foraged make sure you wash thoroughly and check for bugs)
1/2 tsp ground cinnamon
1 tsp maple syrup
Topping:
15g oat flour (blend 15g of oats to a flour consistency)
35g oats
25g ground almonds 
10g mixed seeds
25g melted coconut oil
1 tbsp maple syrup
1/2 tsp coconut sugar 
1 tbsp flaked almonds
Method:
Preheat the oven to 180C, fan setting.
Heat the 1 tsp of coconut oil in a pan and add in the apple cubes. Sprinkle with the cinnamon and add the maple syrup. Cook for 5 minutes (stirring frequently), before adding the blackberries for a further 3 minutes.
Place all of the topping ingredients (minus the flaked almonds and coconut sugar) into a bowl and give a really good mix.
Divide the apple and blackberry mixture between the two dishes, and spoon over the topping mixture. Sprinkle with the coconut sugar and flaked almonds.
Bake in the oven for 15-18 minutes, until the top is golden and you can see the filling bubbling through.
Serve with ice cream or custard.
The team at Isle of Wight online wellness platform Balance + Glo are passionate about sharing their favourite seasonal recipes to fuel outdoor adventures.
Discover more at balanceandgloonline.com / Instagram @balanceandglo