By Will Steward, Living Larder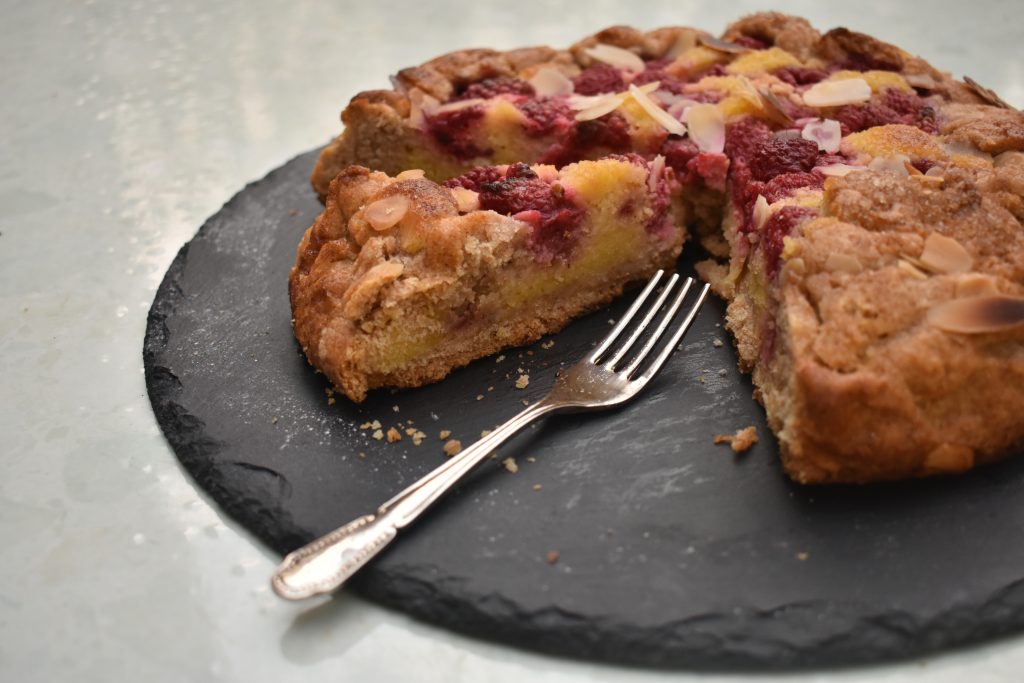 90g unsalted butter, soft
90g golden caster sugar
2 medium eggs
Finely grated zest 1 lemon
90g ground almonds
1 teaspoon of vanilla bean paste
1 tbsp plain flour
300g raspberries
2 tbsp demerara sugar
1-2 tbsp flaked almonds
For the pastry
150g wholemeal spelt flour
100g self-raising flour
150g unsalted butter, chilled, cubed
2 tbsp golden caster sugar
5-7 tbsp ice-cold water
Heat the oven to 180ºC fan/gas 6 and preheat a pizza stone or sturdy baking tray.
Start with the pastry – put the flours, butter and sugar into a food processor and whizz until the mixture resembles breadcrumbs. With the food processor running, add a drop of iced water at a time until the mixture comes together. Turn out onto a lightly floured surface and bring together into a ball, flatten slightly, wrap and chill for 30 minutes.
Beat the butter and sugar together until pale and fluffy. Add the eggs, one at a time, beating as you go. Stir in the lemon zest, ground almonds, plain flour and vanilla until just combined.
Roll out the chilled pastry to a rough 35cm circle and put on a lined baking tray (not the preheated one). Spread the frangipane over the pastry, leaving a 3-4cm border. Scatter over the raspberries. Fold the pastry edges over to slightly enclose the filling, fill in any cracks.
Brush the folded-over pastry with a little milk, then sprinkle the demerara sugar and flaked almonds all over the galette. Slide the galette into the oven onto the preheated pizza stone/baking tray and then bake for 35-40 minutes.
Remove the galette and cool slightly. Serve dusted with icing sugar and vanilla ice cream.
Living Larder is a family owned, Soil Association certified Organic farm supplying local fruit and vegetable boxes.