Not just for summer, this everyday beauty combines rustic roasted Living Larder squash, caramelized onion and indulgent blue cheese (our favourite is multiple award-winning 'Isle of Wight Blue') in a gloriously satisfying turn-of-season salad.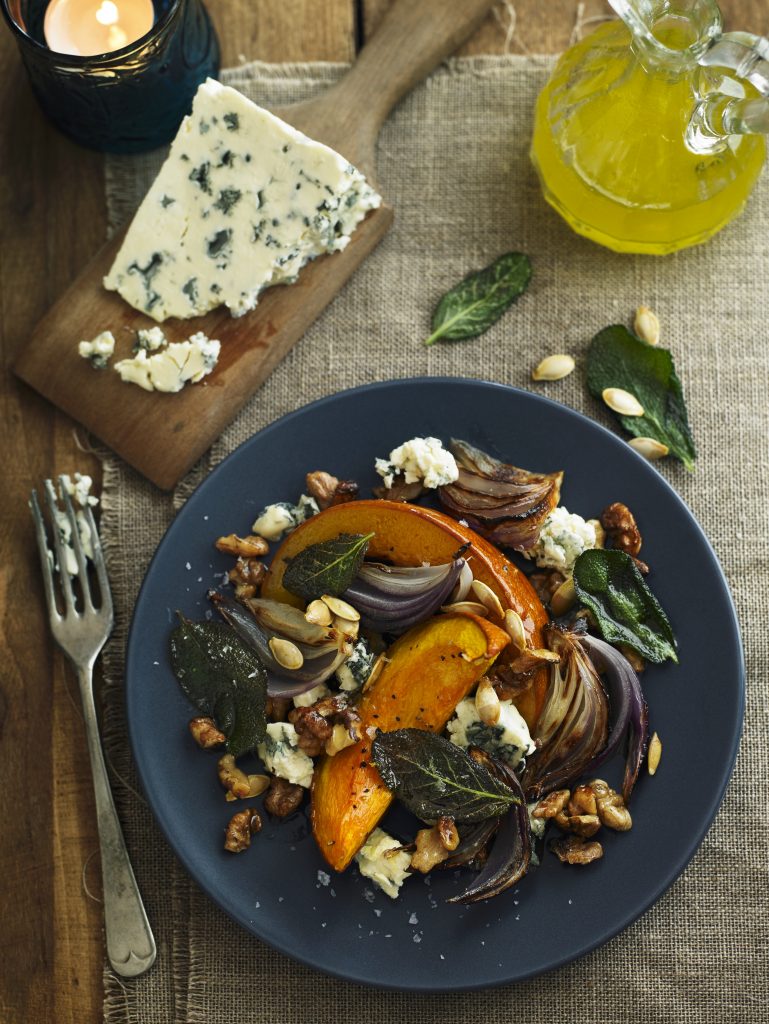 Prep and cook time: 15 min prep, 40-45 min cook
Total time: 1 hour
Difficulty: medium
Ingredients:
1 butternut squash, peeled and cut into large slices, seeds removed and reserved
4 cloves garlic, peeled and gently crushed
2 red onions, cut into quarters
50g walnuts, roughly chopped
140g blue cheese, roughly chopped
100g baby spinach
1 tbsp olive oil
Salt and pepper
For the dressing:
1tbsp olive oil
2tsp balsamic vinegar
1tsp brown sugar
1tsp Dijon mustard
Salt and pepper
Directions:
1 Preheat the oven to 200°C (180° fan) | 400F | gas 6.
2 Toss the butternut squash, onions and garlic cloves in a large roasting tin with olive oil and season. Turn the squash after roasting for 20 minutes. Return to the oven for 20 to 25 minutes, until the squash starts to brown.
3 Remove from the oven, discard the garlic cloves and allow to cool. Meanwhile, rinse and dry the squash seeds. Toast the seeds and walnuts in a frying pan, stirring constantly, until lightly browned, then remove from the heat.
4 To make the dressing, combine the olive oil, balsamic vinegar, mustard, sugar and seasoning in a small pan and gently heat for about two minutes, until the sugar has melted.
5 While still warm, gently toss the butternut squash and onions with the spinach and dressing. To finish, scatter with blue cheese, squash seeds and walnuts.