"Pasta di Mandorla are a Sicilian Christmas speciality. My grandmother, Nonna Maria, my aunties and my mum used to make huge trays of them in those busy baking days leading to Christmas. Pasta di Mandorla make a delicious festive gift and are naturally gluten free.  They are also a great sweet accompaniment to a strong black coffee such as one of our Island Roasted espressos or americanos" says Viviana Burgess, from Newport's Caffe Isola.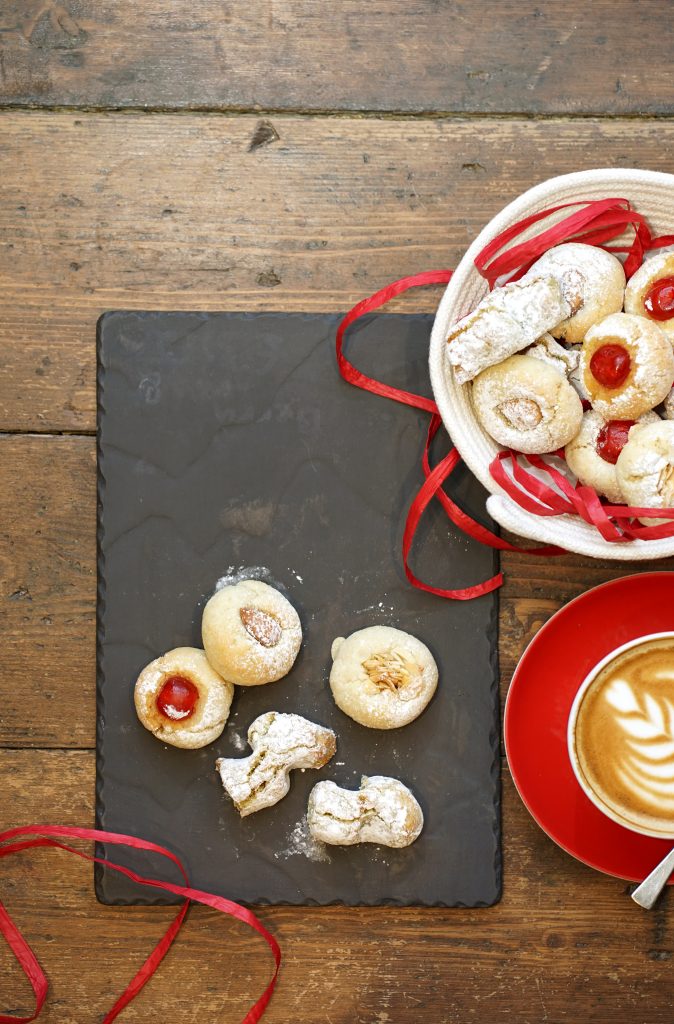 Ingredients:
500g Ground almond
450g Caster sugar
4 Egg whites
Zest of 2 lemons
1 tbsp of Vanilla essence
To decorate:
Glacé cherries and whole almonds
Makes around 25
Method:
In a large mixing bowl, mix together the ground almond with the sugar.
Add the zest of the 2 lemons and mix well, rubbing the zest against the sugar and almond mix with the back of a spoon to fully release its scent.
Finally, add the vanilla essence and the 4 egg whites and stir bringing all the ingredients together to form a fairly compact dough.
Shape the dough into a ball, wrap it in cling film and refrigerate overnight.
Line a large baking tray with baking parchment, take some of the dough and roll it between your hands to form a ball the size of a walnut. Do this until you have used up all the dough.
Decorate some of the dough balls with glacé cherries and some with whole almonds, gently squashing the ball down as you put the decoration on top.
Dust the Pasta di Mandorla generously with icing sugar and bake in a preheated oven for 12 minutes at 170 C. Pasta di Mandorla are just very lightly golden. Take out of the oven and leave on the baking tray until completely cool. Place Pasta di Mandorla in an air-tight cookie jar, they will keep well for a couple of weeks.
For a pistachio twist, replace 100g of the ground almond with ground pistachio.