CHANA MASALA – for chilly daytime dates
Chickpeas are incredibly popular throughout South Asia and beyond. As with all pulses they are relatively cheap and packed with protein, so they form an important part of the diet, especially for vegetarians and vegans.
Chana masala (referred to as 'chole' in Punjabi cuisine) is a famous vegetarian chickpea dish, and is an example of how basic, cheap ingredients can be turned into a hearty, nourishing meal with amazing tastes and textures. Amchoor (dried unripe mango) powder is traditionally used as a souring agent, although lemon juice can be used as a less preferable substitute.
The balance of sweetness in my recipe comes from the very thick and caramelised base sauce (gravy).
This recipe serves one person as a main course or two to three as a side dish. All spoon measurements are level.
The supporting recipes for the Spice Mix and Base Sauce can be found here: https://bit.ly/3zmRb96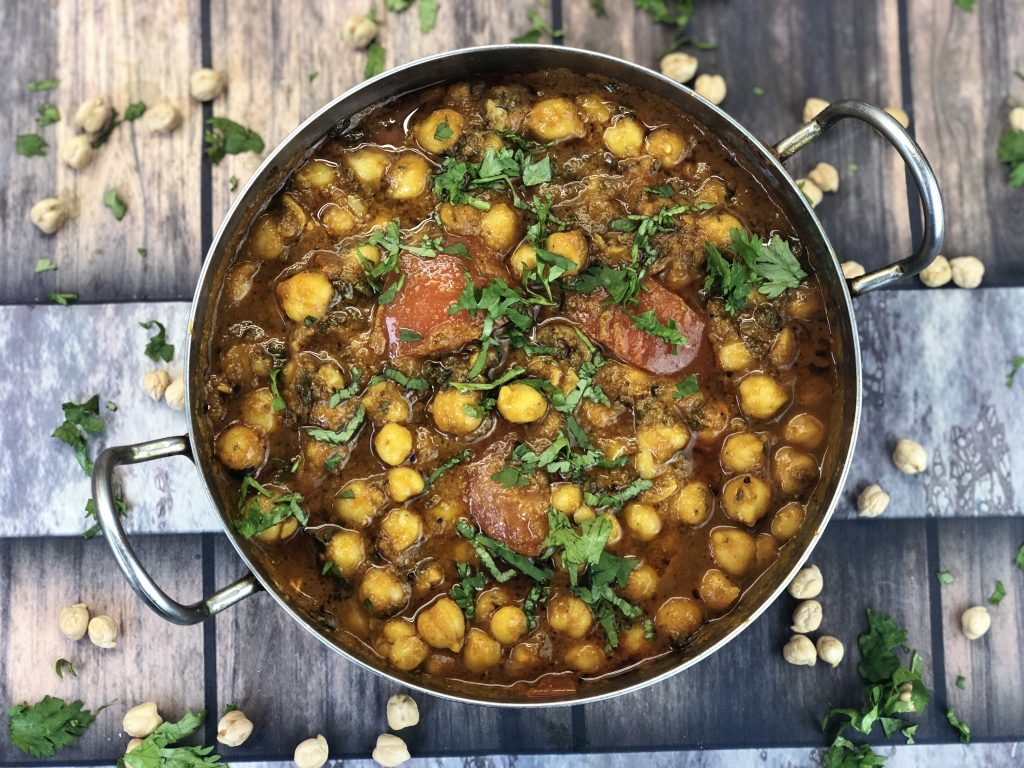 INGREDIENTS
3 TBSP (45ml) Oil 
½ tsp Cumin Seeds 
½ tsp Mustard Seeds (Black or Yellow) 
100g Onion, cut thinly into semi-circular or quarter-circle slices 
1½ tsp Ginger/Garlic Paste 
1 tsp Kasuri Methi 
1½ tsp Spice Mix – see separate recipe
½-1 tsp Kashmiri Chilli Powder 
¼ tsp Garam Masala 
½ tsp Salt 
280ml+ warm Base Sauce – see separate recipe
3-4 TBSP Passata or 1-1½  TBSP Tomato Purée diluted to passata consistency 
200-250g cooked Chickpeas. A 400g tin contains the required amount when drained. You can use dry chickpeas but they will need soaking overnight and cooking first 
2 TBSP Coriander Stalks, very finely chopped (if available) 
1½ tsp Lemon Juice 
1-3 fresh Green Chilli, thinly chopped widthwise (optional) 
2 fresh Tomato quarters 
¾ tsp Amchoor (sour Mango) Powder (optional) 
2 tsp fresh Ginger, thinly sliced into matchstick shapes (optional) 
Fresh Coriander Leaf, finely chopped (for garnishing) 
METHOD
Add the oil to a frying pan on medium high heat.
Add the cumin seeds and mustard seeds. Stir diligently for 30-45 seconds to infuse the oil with flavour, or until the mustard seeds start popping.
Next add the onion. Fry for a minute or two until softened but not browned, stirring often.
Now put in the ginger/garlic paste, stirring until the sizzling subsides.
Add the Kasuri methi, mix powder, Kashmiri chilli powder, garam masala, salt, and a small amount of base sauce (e.g. 30ml) to help the spices fry without burning.
Fry for 20-30 seconds while stirring constantly.
Add the tomato paste. Turn up the heat to high while stirring constantly for 30-40 seconds, or until the oil separates and tiny craters appear.
Add the chickpeas and the coriander stalks. Mix well into the sauce.
Now add the first 75ml of base sauce, stir into the sauce, and leave on high heat (not stirring) until the sauce has reduced a little, and craters form again.
Add a second 75ml of base sauce, stirring and scraping the bottom and sides of the pan once when first added, and allowing the sauce to reduce again.
Add the lemon juice and the optional green chilli and onion paste.
Now add 100ml of base sauce. Stir and scrape once when first added.
Leave to cook on high heat for 4-5 minutes, or until the sauce becomes very thick and the chickpeas have softened. Add a little extra base gravy if desired to thin the sauce out, as to your preference. Avoid stirring/scraping unless the curry shows signs of imminently starting to burn.
Put in the fresh tomato and the optional amchoor powder a couple of minutes before the end of cooking.
Taste and add more salt or lemon juice/dressing if desired.
Serve garnished with fresh coriander and the optional ginger juliennes