CHICKEN MADRAS – for cosy nights in
A hot, savoury, tangy, smooth, tomato-based curry that's a firm favourite. This recipe recreates a typical Madras you would eat in a good Indian restaurant. 
Despite having relatively few ingredients, when cooked correctly it will have amazing flavour layers.
Prepare the base sauce (aka base gravy) and spice mix (aka mix powder) separately before making this Madras. 
Feeds 1-2 people depending on appetite. All spoon measurements are level. Enjoy!
The supporting recipes for the Spice Mix and Base Sauce can be found here: https://bit.ly/3zmRb96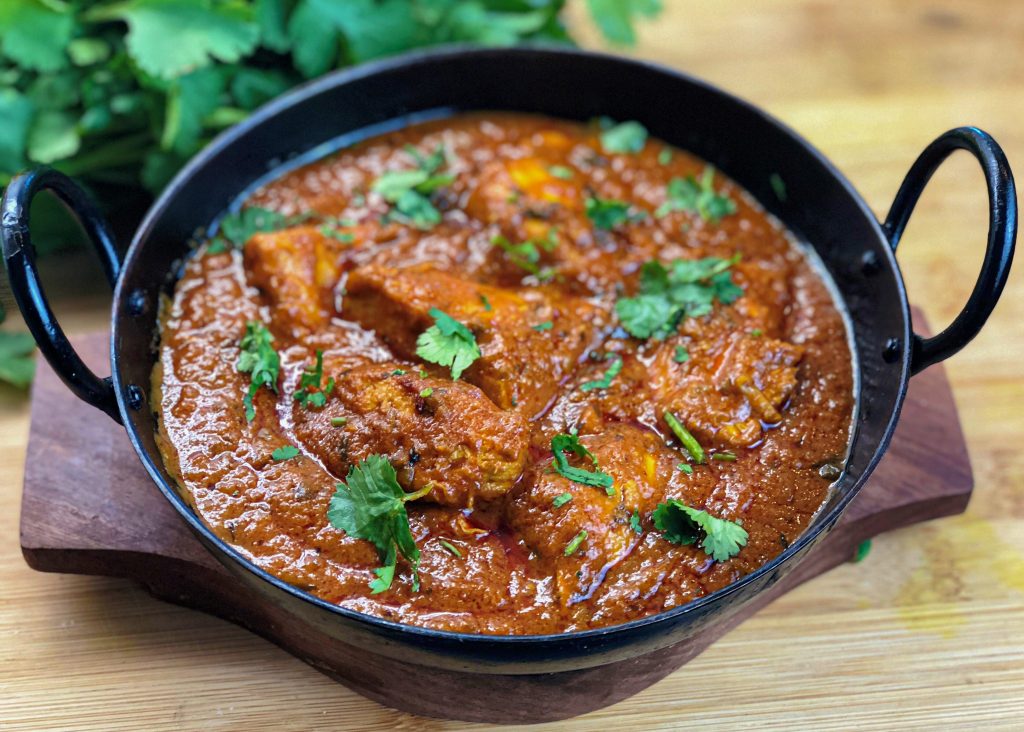 INGREDIENTS
3-4 TBSP (45-60ml) Vegetable Oil
A small piece of Cinnamon or Cassia Bark
½ tsp Cumin Seeds
2 tsp Ginger/Garlic Paste
1-2 raw Chicken Breasts, chopped into chunks
1½ tsp Spice Mix – see separate recipe
1½-2 tsp Chilli Powder (as much as you like)
¼-½ tsp Salt
1 tsp Kasuri Methi (dried Fenugreek leaves)
5-6 TBSP Passata or 1½-2 TBSP Tomato Purée diluted to passata consistency
2 tsp Lemon Juice
330ml+ warm Base Sauce – see separate recipe. Use more for a thinner consistency
½ tsp Coffee Granules (optional)
3-4 Splashes of Worcestershire Sauce
Fresh Coriander for garnishing
METHOD
Add the oil to a frying pan on medium high heat. When hot, add the cinnamon and cumin seeds and fry for 30-45 seconds, while stirring frequently.
Then add the ginger/garlic paste, stirring for about 30 seconds until it starts to brown a little. Avoid burning!
Add the raw chicken and coat it well with the oil.
Now add the chilli powder, spice mix, kasuri methi, salt, and 30ml of the base sauce to help the powdered spices cook without burning.
Fry for 20-30 seconds, stirring frequently with the flat of the spoon, ensuring flat distribution of the spices in the pan.
Add the passata/purée. Turn up the heat to high while stirring frequently until the oil separates and small dry craters appear around the edges of the pan.
Now add and mix in the lemon juice and the optional coffee granules (sparingly).
Add 75ml of base sauce and stir and scrape everything together. Leave to cook with no further tampering until the dry craters form again.
Add a second 75ml of base sauce, stirring and scraping the bottom and sides of the pan once when first added, allowing the sauce to reduce again without unnecessary stirring.
Pour in 150ml of base sauce and the Worcestershire sauce, stirring and scraping once when first added.
Leave to cook on high heat for 4-5 minutes. Stir and scrape the caramelisation back into the sauce, but only do this to stop the curry sticking too much and burning. Add extra base sauce towards the end of cooking to reach your desired consistency.
Remove the cinnamon and spoon off any excess oil from the top of the curry if you wish.
Sprinkle on finely chopped coriander to garnish