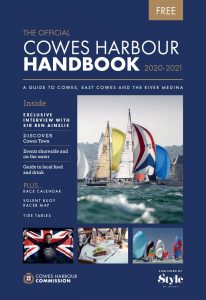 As the Island's definitive guide to Cowes Harbour, the River Medina, Cowes and East Cowes, the Cowes Harbour Handbook is essential for sailors and boaters, visitors and local residents alike.
If you want to find out about the many exciting sailing races and regattas around Cowes, or where the best local eateries are, the Cowes Harbour Handbook is a font of information, covering everything from marine businesses to popular shore side attractions. This guide presents the best of Island life, as well as all the important information a sailor needs with the expected style and innovation associated with Style of Wight.
"This fantastic guide is the first many visitors will see when arriving in Cowes, and gives us the opportunity to really champion all that our beautiful Island can offer. Alongside all the essential information sailors need to ensure their experience on the Island is the best it can be, we'll be freshening up the local content, design, photography and adding a few other surprises. We are looking forward to merging Cowes Harbour Commission's expertise with our own contemporary style to create a handbook the Island can be really proud of."
– Christian Warren, Style of Wight's editor and creative director.
"We are very pleased to be working with the editorial and business team that built Style of Wight into the leading lifestyle title on the Island. The appointment of Style of Wight as new publishers of the Cowes Harbour Handbook opens up tremendous opportunities for the handbook to benefit from Style of Wight's proven track record of high quality publications and established lifestyle advertising expertise and relationships."
– Harbour Master and Chief Executive of Cowes Harbour Commission Captain Stuart McIntosh.
Display Ads: Outside back cover £845, Inside Covers £795, Double Page £1,595, Full Page £725, Half Page £465, Quarter Page £285
Directory: Highlighted Display Entry £95, Directory Display Ad (74x40mm) £150
Exclusive Sponsorship Opportunities: Tide Tables £1,595, Race and Regatta Calendar, Buoy Racer Map £495
For full advertising details please see the Rate & Media Pack
If you are a business looking to book space in the pages of this essential guide please contact us on 01983 861007 or email office@styleofwight.co.uk
For Editorial and Features please contact Christian Warren editor@styleofwight.co.uk