If you're looking for a copy of Style of Wight Magazine here are all the places you can find one.
Those in bold are where you can grab yourself a copy.

NEWPORT
The kitchen Workshop
Long Lane Flooring
Esplanade Garage
D&S Carpets
Bargemans Rest
Premier Ford
Duckworth Services
BLT
Linear Flooring
Medina Foods
Buywise
Jolly Roger
HTP Training
IW College
Café Society
Blue Door Café
Oggies Chippy
French Franks
Gods Providence
Sugar & Spice
Olivos
Skin Trade
I Love Coffee
Graces
Calverts
Island Holiday Media
Holyrood House B&B
Hurst
Style of Wight HQ
Pets With Hart
Osbournes
Primrose
Watchbell House
Orchard Cosmetics
Wessex Cancer
Just You Beauty
Lugleys
Wight & Green
Rouse
The Stag Pub
St Mary's Hospital
M&S
Readers
Quay Arts
Mia
Bayliss & Booth
Bijou Hair
Beautify
ERMC
The Beauty Spot
Caffé Isola
Gems Bridal
The Hair Salon
Beavis
Dominos
Noodle Pot
Mr T's
Flower Garden
Precision Hair
Take Two
St James Clinic
The Agency
Hair Leaders
Zen Spa
Bengal Palace
Jenny Guy
NFU
Solomon Grundy
STA Sofas
Sydenhams
TM Taylor
IDML
Snows
Rouse
Howdens
LifeLine
Solar Renewable
Pin Up Girls
Twice as Nice
Glanvilles
Solent
Visual Impact
Adrianne Wroth
Capital Jewelers
Ventnor
Island Kitchen Company
Winter Gardens
The Bistro
Spy Glass
The Met
Milly Bay
Tilly's Café
Tinto
El Toro
Phileas Fogg
Tramezzinio
Chip Shop
01 Estate Agents
Hillside
Cantina
Sophie Honeybourne
The Royal
Suzies Room
Hamborough Hotel
Grove Rd Surgery
Ventnor Medical Centre
Tommos Café
Lady Scarlettes
Ale & Oyster
Botanic Gardens
Seasons News
The Cabin
Premier
Henry Ingrams
Golden Sands Café
Hair Salon
Hose Rhodes Dickson
Tea House
ARRETON
Tomatoe Stall
Farmer Jacks
Apse Heath
Island Artisan
House of Chilli
Tea Bus
Post Office
Newchurch
Pointers
Saddlers
Garlic Farm
Farmer Jacks
GODSHILL
Chocolate Island
The Tavernors Pub
Old Smithy
The Essex
NITON
Doctors Surgery
The Buddle Inn
Norris Stores
Post Office
Lake
Axcess Bikes
Anne Ginger
Richies Diner
Premier Inn
Merrie Gardens
North Rd Garage
WHITWELL
Whitewell Garage
White Horse Pub
Cowes
The little Gloster
Waterside Properties
One Fifty B&B
Benzies
The Plaza
Island Sailing Club
Joli
Kirby of Cowes
Bliss
Chocs Away
Drift
Solent Wealth
Lugleys
Spence Willard
Royal London
Royal Yacht Squad
Royal Corinthain
Villa-Rothsay B&B
Live Like This
The Vectis Café
Red Funnel Steam
Finishing Touches
K&H Hairdresses
Cowes Harbour
Pier View
Healthy Indulgence
Shorelines
WD Opticians
Sushi Bae
Joules
Green Bouy Arts
White Stuff
Osbournes
Fat Face
Tiffins
Megan Baker
Ale House
Toninos
Staples & Green
Jolliffs Coffee Shop
The Coast Bar
Moo Cow
Charlottes Hair Salon
Girls For Sale
Caldon B&B
UKSA
Health Centre
Northwood Garage
Amery House Dental Practice
Rosalies
Healing Room
Poppies Café
Tradewinds
Arcade News
Harbour Kitchen
Sail Café
Barbers
Red Funnel Terminal
M&S
BeClamed
PHG
Kendall Fine Art
The Mess
Sunshine Café
Watch House
Totties F&C
Well Bread
Red Squirrel
Esquire
Blue Interiors
Chivertons
Brawns
Woodvale
Amarbi
Gurnard
Portland Inn
Gurnard News
The Portlant
East Cowes
Premier
Waitrose
Seabreeze
YARMOUTH
Spence Willard
The Deli
The Wheatsheaf
The Bugle
Blue
The George
Harwoods
The Kings Head
Chessel Pottery
The Scoop Ice Cream
Yarmouth Gallery
The Blue Crab
Rust
Royal Solent Yacht Club
Nammet
Off the Rails
Blossoms
Gossips Café
Bank House Antiques
Butterflies
Gracies Bakery
Sorrenna
Number 20
Rust Jewelers
Ivory
Blue Crab
Jurah Guest
Golden Hill
Spence Willard
Yarmouth Harbour
Gossips
Holdings
SHAKFLEET
Island Ales
Shalfleet Stores
New Inn
FRESHWATER
West Bay Club
Freshwater Golf Club
Highdown Inn
The Red Lion
Freshwater Garage
End of the Line Café
Pittis Estate Agents
Orchard Bros
Rainbow F&C
The Piano Bar
Amazing Glazing
Co Op
Sugar Loaf Café
Spencer Willard
Elliots
Mrs Middletons
The Rabbit Hole
Vals Collectables
The Red Lion
Rookley
Brownrigg Farm Shop
Co Op
Island Car Centre
Post Office
CHALE
The White Mouse
Chale Bay B&B
Ryde
Victoria Road Dentist
French Franks
Olivos
Crocus
Italian Touch
Blacksheep Bar
Pittis Estate Agent
KYA Spa
Joes Café
Madison Hair
Deckades
Liz Earle
Seafields Estate
Mia
Bellissima
Sugar & Spice
Begal Wrap
House of Zabre
Michaelangelos
The Three Bouts
Bou Chic
Physiocare
Forget me Knot
Missy J Café
Koffee House
Wight Sight
Level Hair
Hose Rhodes Dickson
Fired Art
Tav Cycles
Gracies Bakery
Premier Oakfield
Woods
Sydenhams
Sharond Orchard
Busy Bee
Westridge Golf Club
Wight Karting
Appley Manor
Oasis Shop
Hobbs Jewelery
Bottega
Leonard Cheshire
Sports and Toy Maters
Premier St Johns
Wights Fish & Chips
Moreys
Gibbs & Gurnall
Ryde School
Rosemary Vineyard
Crown Inn
Travel lodge
Greenhams
Yelfs
Mia Men
Mellashes
Cosmedica
Beautique
Foel Arts
Ryde Golf Club
Wootton
Harwoods
Wisteria Gallery
Wootton EA
Lakeside
Briddlesford Farm
Briddlesford Café
Seaview
Wight Locations
Seaview Hotel
The Galleys
Old Fort Pub
SHANKLIN
Little Stairs Dental
Arthurs Hill Dental
Foleys Irish Bar
Snowdon Hotel
Conservative Club
Wight Answers Offices
Guy Hair Essentials
Grace's Bakery
Poppins Café
Connections
Arthur Wheeler
The Leafy Bean
Natalie Clare Hair
Old Shanklin Guest
Jingle Bells
Pencil Cottage
The Village Inn
Upper Chine Holiday Apartments
Abbotts Flooring
Park Resorts
Solent Beds
Co Op
King Henry Bar
Village Inn
50+ Club
Laundarett
Café
Woods
Monro Hair
Chris Hair
Morgans
Love Hair
Masotas
Shanklin Antiques
SANDOWN
Ocean Deck
Fresh Café
Daisy Café
Sandown News
Barber Shop
Muzza's Shop
The Bank Pub
Moreys
Sydenhams
Welcome
Serenity Diner
Chicken & Pizza
PJ News
Wight Motors
Winter
Salon 101
Guys & Dolls
Chubbies
The Heights
Golf Club
BRIGHSTONE
Three Bishops
Brighstone Stores
Brighstone News Agents
TOTLAND
Cost Cutters
Post Office
SHOREWELL
The Crown Inn
The Post Office
CHALE
Chale B&B
Chale Stores
We also have distribution points on the mainland, so even 'mainlanders' can enjoy Style of Wight.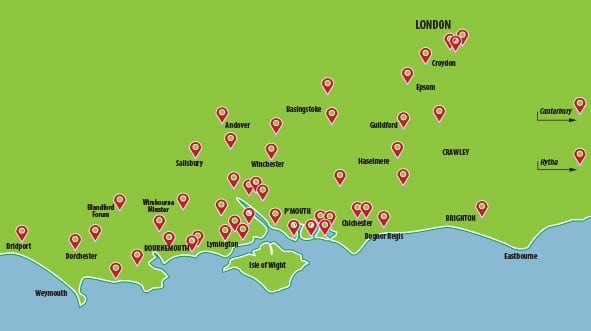 Distribution curtesy of our Partner Steve Read.
S.W.R.Logistics ltd
Mob 07894738246